Asbestos cement roof sheets or "AC Sheets", is a roofing / cladding material, in which asbestos fibres have been used to reinforce thin rigid cement sheets. Asbestos Cement was widely used as a building material until it was outlawed in the UK in 1999.
Asbestos cement roofing sheets, come in many different profiles. The most typical Asbestos roofing sheet is probably "Big Six" or "Profile Six". A typical example is shown.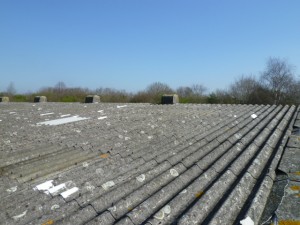 The product life of asbestos roofing sheets can vary but generally will last between 25 – 40 years. This means that products that were installed before asbestos was outlawed as a building product are coming towards the end of their usable life.
If your roof is leaking or roofing materials have been damaged, you will need to contact a specialist. That is where we come in.
Asbestos Roofing is not a problem if it is undamaged and likely to be undisturbed. In this situation you should monitor it as per your asbestos management plan.
Asbestos Roofing – Over Roof
Asbestos over sheeting allows you improve thermal elements, whilst introducing a new roof covering.
Over sheeting allows you to:
Improve external appearance
Improved thermal performance
Less disturbance than full strip and re-sheet
Less costs than stripping the roof, may be more cost effective
The following factors will need to be considered:
Structural ability of the existing roof to accept additional weight
The disturbance to occupants whilst the works is being undertaken
Access and storage requirements needed for the works i.e. skips and material storage
The contractors proposed method for drilling and phasing of the works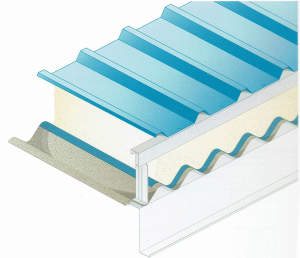 2
Insulation added to increase thermal performance
4
Existing asbestos cement roof
Asbestos Roof Strip
&

Re-Sheet
Asbestos roof replacement allows for full refurbishment to your pitched roof.
Full roof replacement allows you to:
Improve external and internal appearance
Potentially improve the working environment for occupants
Easily alter lighting levels to optimum performance
Improved thermal performance
Completely remove potentially hazardous material
The following factors will need to be considered:
The costs associated with hazardous waste disposal
The disturbance to occupants whilst the works is being undertaken
Access and storage requirements needed for the works i.e. skips and material storage
The contractors proposed methods and phasing of the works
What to expect from your roofing contractor
It is important when choosing a roofing contractor to deal with asbestos roofing products that the company is competent to carry out the works.
Has your contractor provided the following:
A Construction Phase Plan (CDM 2015)
Training Certificates relevant to the work
Comprehensive Method Statement & Risk Assessment for the works
Benefit

Internal Appearance Improved
Easy to alter lighting levels
Hazardous Material Removed
On Site Installation is Fast
Minimal Disturbence to occupants
Insulation can be upgraded
Asbestos Over Roof

No
No
No
Yes
Yes
Yes
Asbestos Strip & Re-Sheet

Yes
Yes
Yes
No
No
Yes